Why Mentor?
Mentoring at its essence, let's students know that there is someone invested and committed to them.  A mentor helps a young person understand that they are not alone. They help to provide guidance and may act as a sounding board when students are faced with day-to-day challenges.  Effective mentoring offers students the opportunity for personal growth and development as well as exposes them to social and economic opportunities. Research has shown that quality mentoring relationships have positive effects that last a lifetime.  
By becoming a Starfish Mentor and supporting a Starfish Scholar academically and socially, sharing your professional experiences and networks, you will help to  place them on a path to success. You will let our Scholars know they matter.
Starfish Initiative Scholar Highlight
Taj & Stephanie
Are you interested in being a mentor? Complete this form to learn more.
Be a Mentor. Change a Life. Make a Difference.
Young Adults Who Were At-Risk for Falling Off Track But Had a Mentor Are:
more likely to enroll in college
55
%
more likely to volunteer regularly
78
%
are interested in becoming a mentor
90
%
more likely to hold leadership positions
130
%
Education
Mentoring has significant positive effects on two early warning indicators that a student may be falling off-track:
High levels of absenteeism (Kennelly & Monrad, 2007)
Students who meet regularly with their mentors are 52% less likely than their peers to skip a day of school and 37% less likely to skip a class. (Public/Private Ventures Study of Big Brothers Big Sisters)
Recurring behavior problems (Thurlow, Sinclair & Johnson, 2002) 
Young adults who face an opportunity gap but have a mentor are 55% more likely to be enrolled in college than those who did not have a mentor.
(The Mentoring Effect, 2014)
In addition to better school attendance and a better chance of going on to higher education, mentored youth maintain better attitudes toward school.
(The Role of Risk, 2013)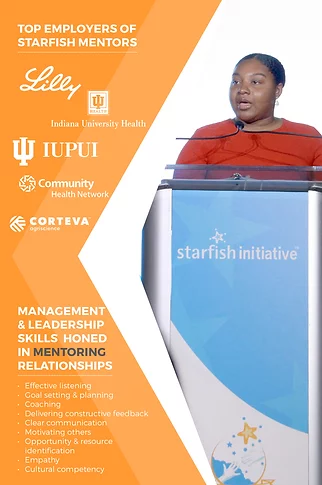 Who can be a Starfish Scholar?
To apply to Starfish, students must meet these criteria:
~ Be in the 8th grade.
~ Be committed to graduating from high school, getting into college and graduating from college.
~ 21st Century Scholar eligibility. Please see link to eligibility requirements https://learnmoreindiana.org/scholars/enroll
~ Have at least a middle school GPA of 2.5
All applications are evaluated by an internal admissions committee .
What is 21st Century Scholars, and why must I be accepted there to be in Starfish?"
21st Century Scholars is an Indiana state program that provides college tuition support for students who meet grade and household income requirements. Tuition support provided by 21st Century Scholars can be used at any state-supported university in Indiana, or as partial tuition at some private Indiana colleges. However, families must apply for their child during 7th or 8th grade. To learn more about 21st Century Scholars click here. Your acceptance into the 21st Century Scholar program assures us of your college financial need, one part of Starfish Scholar eligibility.
Additional information at https://learnmoreindiana.org/scholars/enroll/
How can a student apply to Starfish?
Typically 8th graders learn about Starfish Initiative when their school counselor invites them to a presentation at their school. Most Marion County middle schools (almost 50 this year) are included in our presentation schedule. We also offer some community presentations for those who miss one at school.
Applications open August 1st and close December 31st.
Beginning January 1st, Starfish selects the candidates whom we would like to interview along with a parent/guardian. By the end of April we will have selected the next class of incoming scholars.
Why don't you accept students younger or older than 8th grade?
Our college success program is based upon a mentoring model that includes one-on-one mentoring from the beginning to the end of high school. That model works amazingly well.
~ 100% of the students who complete our program graduate high school.
~ 84% of our alumni are now college graduates or are still in pursuit of their college degrees.
Do I get to pick my child's mentor?
Because our staff meets every Scholar candidate and every mentor candidate, we pair Mentors with Scholars, but parents and Mentors alike have an opportunity to ask questions and approve the match before it actually happens. Once a match is made, everyone involved – including the Scholar and parent – is committed to making the match work.
What happens if I don't like (or think I don't like) my mentor?
Tell us! Sometimes we do hear from a Scholar – or a Mentor – that they believe a match is not working out. Usually there has been a miscommunication from someone, or the Scholar might feel insecure and unsure of how to act with this new adult in their life. Your Scholar Specialist will help get to the bottom of anything you might think is going on, help you clear anything up, and move ahead.
In very rare cases, a match really doesn't work out. In those few cases, we make another match.
Will I have the same mentor for all 4 years, or lots of different mentors?"
The vast majority of our matches last all four years of high school and the Mentor and Scholar continue to communicate well into college. But it's true that sometimes Mentors move away because of a job offer, or (after their two-year initial commitment is complete) they may decide to volunteer in the community in another way. The bottom line is that, as long as a Scholar works hard on his or her grades and stays in the Starfish program, we'll work hard to make sure they have a great match.
Do you offer Starfish Scholarships?
We do not offer scholarships originating with Starfish Initiative, but we do direct our Scholars to a number of sources through which scholarships and other tuition assistance is available.
Do you pay for private school tuition?
We don't. We do, however, have relationships with some private high schools that have scholarships reserved for Starfish Scholars. Those scholarships are awarded by the schools. Keep in mind, if you think you want to attend a private high school, you need to apply directly through the school and start EARLY – well before the end of the eighth grade!
Will my daughter have a female mentor?
Yep! Young ladies are matched with college-educated women, and the guys are matched with college-educated men.
Can you help me get college scholarships?
One of our primary goals is to pass along to our Scholars as much information as possible about available scholarship and tuition assistance funds. We also have a terrific new online service that offers a lot: our Scholars can "shop" for colleges by major or area of the country, keep track of their grades, and – yes – investigate scholarship opportunities using a number of different factors such as background, race, G.P.A., and a number of other factors.