Why Mentor?
Mentoring at its essence, lets students know that there is someone invested and committed to them.  A mentor helps a young person understand that they are not alone. They help to provide guidance and may act as a sounding board when students are faced with day-to-day challenges.  Effective mentoring offers students the opportunity for personal growth and development as well as exposes them to social and economic opportunities. Research has shown that quality mentoring relationships have positive effects that last a lifetime.  
By becoming a Starfish Mentor and supporting a Starfish Scholar academically and socially, sharing your professional experiences and networks, you will help to  place them on a path to success. You will let our Scholars know they matter.
Starfish Initiative Scholar Highlight
Taj & Stephanie
Are you interested in being a mentor? Complete this form to learn more.
Be a Mentor. Change a Life. Make a Difference.
Young Adults Who Were At-Risk for Falling Off Track But Had a Mentor Are:
more likely to enroll in college
55
%
more likely to volunteer regularly
78
%
are interested in becoming a mentor
90
%
more likely to hold leadership positions
130
%
Education
Mentoring has significant positive effects on two early warning indicators that a student may be falling off-track:
High levels of absenteeism (Kennelly & Monrad, 2007)
Students who meet regularly with their mentors are 52% less likely than their peers to skip a day of school and 37% less likely to skip a class. (Public/Private Ventures Study of Big Brothers Big Sisters)
Recurring behavior problems (Thurlow, Sinclair & Johnson, 2002) 
Young adults who face an opportunity gap but have a mentor are 55% more likely to be enrolled in college than those who did not have a mentor.
(The Mentoring Effect, 2014)
In addition to better school attendance and a better chance of going on to higher education, mentored youth maintain better attitudes toward school.
(The Role of Risk, 2013)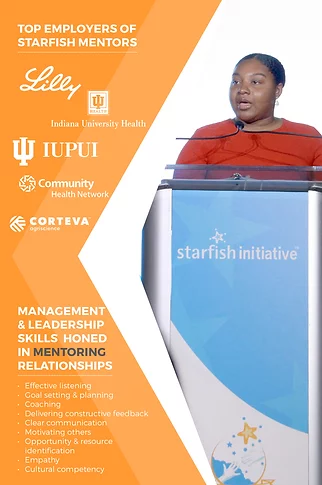 Any man or woman aged 21 or older with a college degree and a desire to help a young person!
An academically-promising high school student who lives in Marion County and is facing unearned adversity. 75% of our Scholars will be first-generation college graduates. All Mentor and Scholar pairs are same gendered matches.
Why do students need a Mentor?
Research has shown that quality mentoring relationships have positive effects that last a lifetime. Many students facing unearned adversities may find it difficult to get critical, practical information about college and career paths. The adults and/or caregivers in their lives may simply be too busy or inexperienced and unable to guide students in the areas of college, career, and/or other soft skills necessary for the student's educational and career success.
As a mentor and college and career coach, you will help your scholar stay on track to graduate from high school and prepare for college by working on resumes, writing professional emails, developing good time management skills, and having fun!
What is my time commitment?
Starfish Mentors make a one year commitment to their Scholar. During that year, we ask that you and your Scholar meet at least once a month, in-person and by call, text, or email on the "off" weeks. Many of our Mentors remain with their Scholar through high school and beyond.
How do I become a Starfish Mentor?
Simply complete the application. Then schedule a mentor interview so that we can learn more about you and give you an opportunity to get to know us. Next complete a national fingerprint check and submit a background check. Finally, we will get you scheduled to attend a mandatory Mentor training session and then you are off to being matched with a Starfish Scholar.
What qualities make for a successful Mentor?
There are many attributes that can make you a successful mentor. Here are a few of the top qualities we look for:
Commitment. Mentoring relationships takes time to make a positive impact.

Ability to listen. Listen, ask thoughtful questions, and allow students to explore their own thoughts.

Empathy. Good mentors can feel for people without feeling pity for them.

Problem-solving. Help a student make sense of issues and suggest alternatives; but your student makes the decisions.

Flexibility and openness. Good mentors take time to get to know their students and are open to learning about new trends and new technologies.

Patience. Allow the student to move through the relationship at their own pace and be patient through the coaching process to help students reevaluate their goals.
Why is Mentoring important?
Students with mentors have:
Better school attendance

Better attitudes toward school

Better chances of pursuing higher education

Less likelihood to begin using drugs

More positive social attitudes and relationships
What do I DO with my scholar?
Do whatever is comfortable and whatever feels right based on your common interests. (Yes, you will have interests in common with a teenager!) If you both like the arts, track down all the free theater and concerts you can. Sports? Keep your eyes open for emails from us offering tickets that are often donated to us (and act FAST). If you both like the outdoors, go hiking, work in the yard, or hop on a couple of bikes.
We ask our Mentors to expose their Scholars to those things more affluent college students will have experienced. Build their social and cultural capital for college – all the while sharing what you know of the ins and outs of college life. Have fun. Be creative. Talk with other Mentors about what they have done with Scholars.
What are the detailed eligibility requirements to become a Starfish Mentor?
Thank you for your interest in applying to become a Starfish Mentor. Please review the following Starfish Mentor eligibility requirements:
I am 21+ years of age with a post-secondary degree

I am able to meet with my Scholar at least one time per month

I am able to connect via phone, text, email, or social media with my Scholar once a week

I have a valid driver's license and valid auto insurance

I have reliable transportation with no citations for driving under the influence of alcohol or drugs, reckless driving, or license suspension for at least 3 years. (If an applicant has a significant history of driving of driving record offenses, it will be at the discretion of the programming staff if the applicant is accepted.)

I have no felony convictions or criminal records of any kind involving violent crimes

I have no criminal record involving a violent crime

I am able to attend an in-person interview with a Starfish staff member and attend an orientation training

I will give consent for Starfish Initiative to complete background, sex offender, and driving record checks

I will submit two reference forms (provided by Starfish) by the time of orientation, one personal and one professional

I will attend the required orientation/training session and will complete ongoing check-in meetings with Starfish staff

I am aware that if not accepted into the program, the reason for not being accepted will not be disclosed to me or a non-Starfish representative.