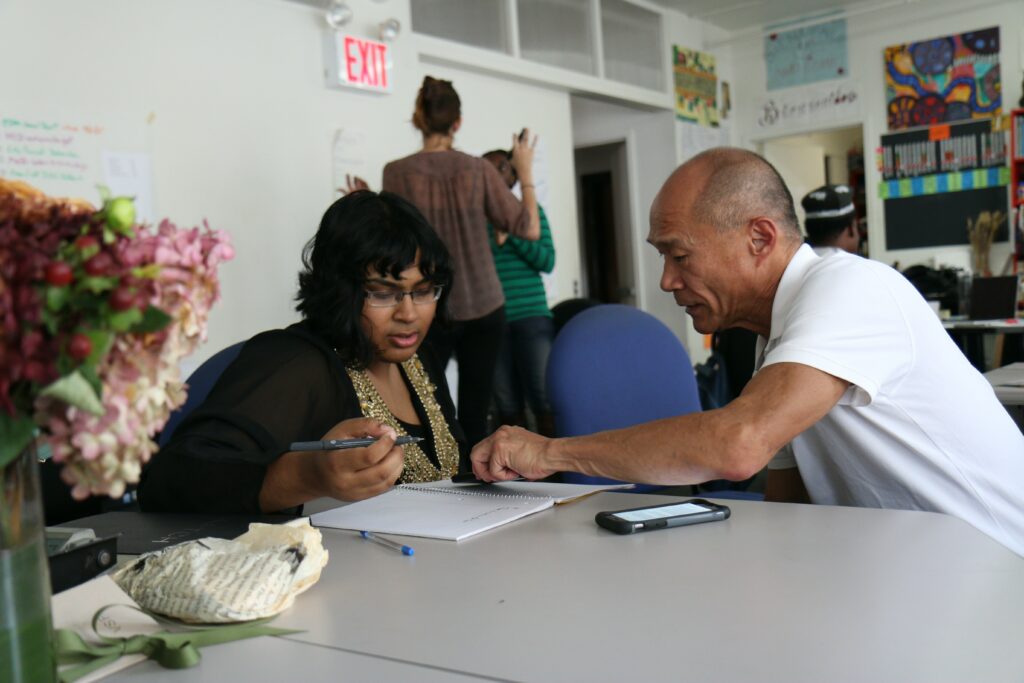 At its core, the purpose and goals of youth mentoring programs are fairly simple. Mentoring programs help ensure that the young people in our community have one more supportive adult who cares about them, guides them through day-to-day struggles, and connects them with personal growth and development opportunities.
Beyond this central tenet, each mentoring program defines its own purpose—often focused around one or more of the following areas.
Education
Throughout our lives, education provides us with myriad benefits. Those with at least a high school diploma are more likely to have increased stability and financial security. In fact, according to the Bureau of Labor Statistics, those who lack a high school diploma have the highest unemployment rate and the lowest median weekly earnings, and median earnings increase with every level of education obtained.
Yet, in Indiana alone, our high school graduation rates are disparate. Minority and low-income students graduate at significantly lower rates than their peers. While roughly 86% of Hoosier students graduated high school in 2021, only 77.05% of Black students, 82.66% of Hispanic students, and 82.84% of low-income students graduated. Mentoring can improve these outcomes for students. At Starfish Initiative, 72% of our Scholars are minorities and 100% of them come from low-income families. Yet, with our program's backing and their mentors' support, 100% of students who complete our program graduate high school.
Daily Life
Most people would agree that life is challenging—especially during the teen years. Temptations are everywhere, and making good decisions isn't always easy. Through life's ups and downs, mentors offer advice, insight, and encouragement—all of which can help youth develop the self-confidence and resilience they need to make good choices in their daily lives, now and in the future.
According to MENTOR's report, The Mentoring Effect, at-risk youth who have a mentor are far more likely to participate in positive activities. The numbers show that:
76% of at-risk youth with a mentor plan to enroll and graduate from college, compared to 56% of at-risk youth without a mentor.
67% of at-risk youth with a mentor participate in sports, clubs, and other extracurricular activities at school, compared to only 37% of at-risk youth without a mentor.
51% of at-risk youth with a mentor held a leadership position at school, compared to only 22% of at-risk youth without a mentor.
48% of at-risk youth with a mentor volunteer in their community, compared to 27% of at-risk youth without a mentor.
Career
Finally, many mentoring programs have goals attached to career aspirations—including defining a plan for education after high school. Of course, not every high school graduate wants or needs to attend a traditional four-year university. In fact, apprenticeships, community college programs, and the military all offer excellent career paths. The critical component here is that mentoring can help young people find a career path they're passionate about—and define the steps needed to get there.
Yet, in the United States, nearly 6 million young people, ages 16 – 24, are disconnected from school and work. Mentors can help their mentees find and develop a pathway to their future with activities like:
Discovering and setting future-focused goals.
Setting up experiences to learn more about different career paths.
Connecting with networking opportunities, job shadowing experiences, or internships.
Building and developing employability skills needed for interviews and jobs.